CATEGORY Apartments, luminary
You'll Be a Perfect Match with Luminary!
Posted April 1st, 2020

apartments, baltimore, hospitals, Match Day, Rent, residency
Match Day just occurred on March 20th, so Luminary knows that this will bring a large number of new residents to the Baltimore area.
Match Day occurs annually when the National Resident Matching program releases results for applicants seeking residency and fellowship positions in the United States.
At Luminary, we understand the stress and difficulty of finding a new home in a new city. But, we're here to help!
Why Rent?
Since residents may or may not be in Baltimore for a long time, we recommend renting an apartment. Renting offers a flexible option and is a less risky investment, unlike purchasing a house with a mortgage. You will be able to choose from a variety of lease options and make monthly payments that will allow your move to Baltimore to go smoothly.
Why Luminary?
Located in Downtown Baltimore, Luminary is a new apartment experience and offers you somewhere to live that is both convenient and comfortable, especially for a new young professional. It is a prime location to local hospitals, making your commute to work much easier:
Life at Luminary will help you save time, even with the busiest of schedules.
Our Location, Our City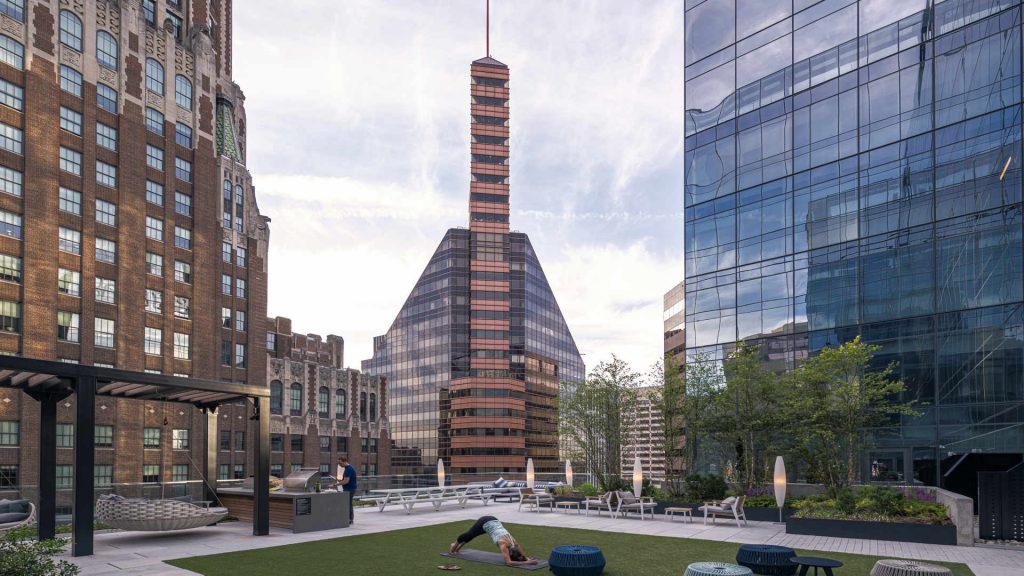 Location is key when finding the best place to live in Baltimore! With a walk score of 98, and a transit score of 93, you will always be steps from the city life. Luminary boasts a prime location, central to the best attractions Baltimore has to offer. Our location allows easy access to downtown hospitals and universities, and also popular neighborhoods like Federal Hill, Mount Vernon, Little Italy, Harbor East, and Fells Point.
Whether you have a car, bike, scooter, or if you just walk, take the nearby light rail, metro, or bus, Luminary's central location allows you to easily access everything Baltimore has to offer.
At Luminary, the gem of Baltimore, our beautiful Inner Harbor, is only a few blocks away! Take in the sights, go for a jog, and bask in the sun in your new city.
With so many experiences right around the corner, Luminary's location offers you the ability to enjoy life both inside and outside your door.
Amenities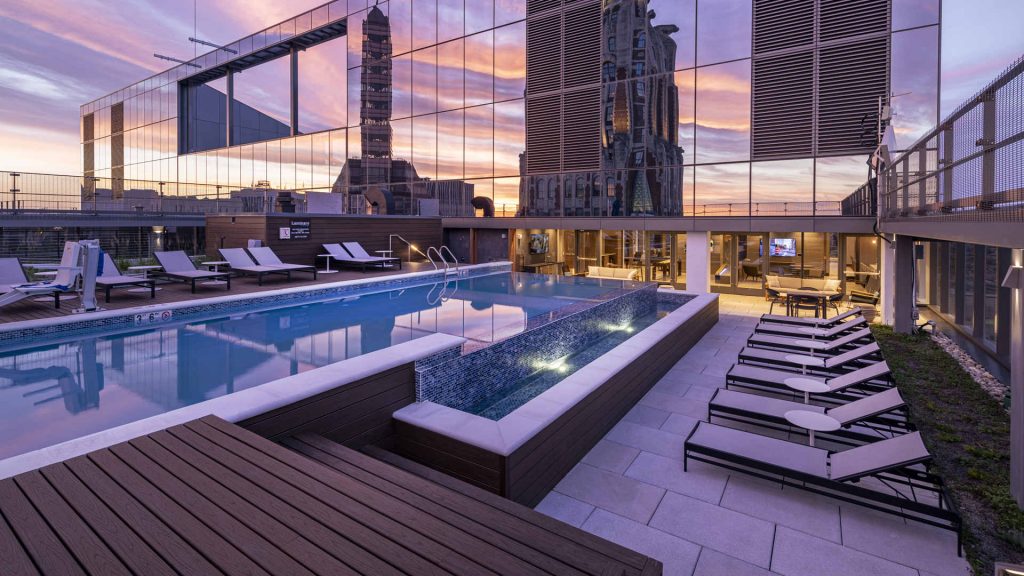 To have a restful and innovative mind, there needs to be a lifestyle balance between work and play. At Luminary, we offer a variety of amenities to cater to every person. Whether it's having a peaceful dinner in our private dinning room, testing your skills in our game lounge, exercising at the rooftop fitness center, or cooling off in the rooftop infinity pool.
We also provide services to enhance every person's lifestyle. We offer a yoga-studio, electric-car charging stations, and even a rooftop dog park and pet spa for your furry friends.
We also provide an on-site parking garage, but if you choose not to have a vehicle, take advantage of many area hospitals offering transportation, such as Johns Hopkins!
Apartment Homes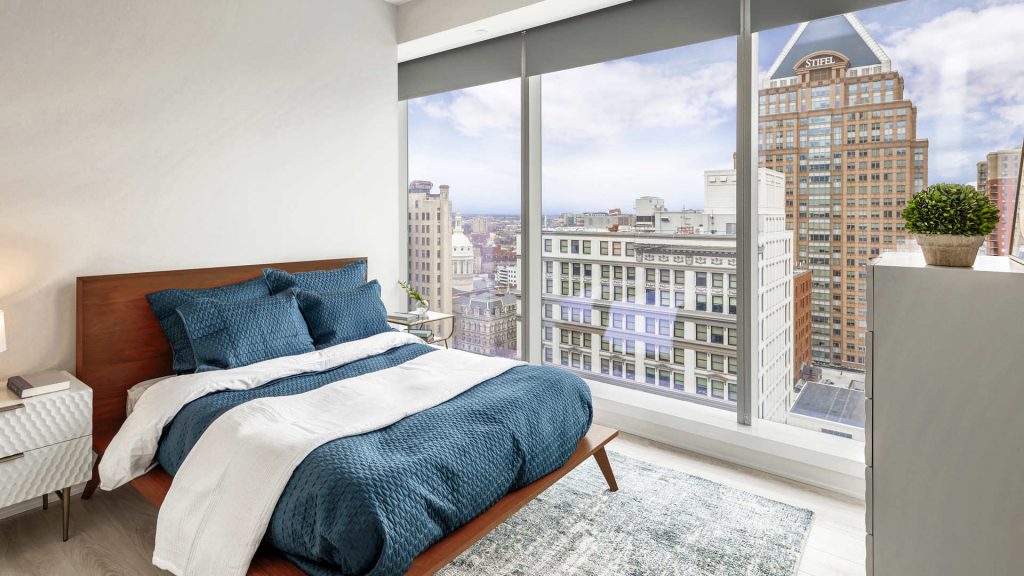 Ranging from a cozy studio to a large three-bedroom apartment home, Luminary offers floor plans for any living arrangement!
Each residence is designed with nine-foot tall ceilings, including floor-to-ceiling windows and quartz countertops. Every gourmet kitchen is equipped with European-style cabinetry, energy-efficient whirl pool appliances, and customizable built-in storage.
Enjoy spacious living rooms when entertaining or cozying up on the couch. Each apartment allows for a breathtaking view right outside your windows from our 18th to 27th floors.
We still have some apartment homes available to lease, so contact us today to start living the luxurious urban lifestyle you have always wanted!
Make Luminary Your New Home
This new stage of your life can be hectic, but finding a place to live that has so much to offer can make it easier. Congratulations to everyone who matched with a Baltimore area hospital this Match Day — we hope you'll love our city as much as we do and we can't wait to make Luminary your new home.
Contact Luminary with any questions, or call us at 833-744-4356. Schedule a virtual tour and make Luminary your home today!
Back To Blog